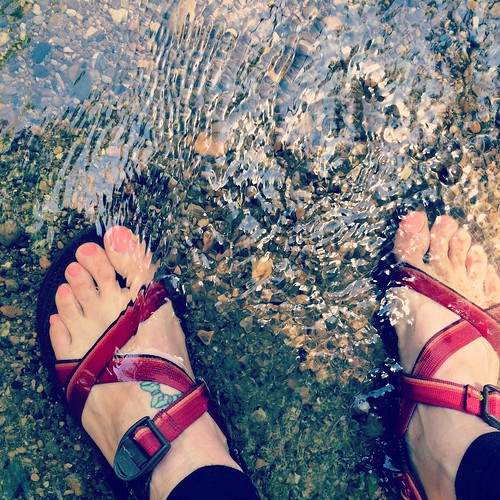 photo by Karl Bolter
In the past year I've started reading a few new blogs by a few pretty rad ladies (The Morning Fresh and Campfire Chic). One recently made a big move across the country to do what felt right for her. Uproot your life? Sounds like a great adventure, but is it practical? The other mentions this idea called self love a lot. She does some how to get yourself motivated to blog again things and one writing topic is self love. I would read those two words and  laugh. Self love? That sounds straight out of a psychologist's office, something you need to focus on if you're in a dark place. I love myself, I take care of myself, I'm a happy human being.
The past six months I've been struggling hardcore with back pain. My mid back and shoulders are crazy tight. The chiropractor and massage therapist I see tell me to work on my posture, to be conscious of how I sit at my desk, to add 10 measly minutes into my morning and evening routines to open my chest and stretch my back. And I do, but then I don't, and then my body becomes a wretched mess of pain for a few days, disrupting sleep.
This is not self love. This is the exact opposite of self love. This is making myself hurt because I'm not paying attention, because I'm not treating my body as it deserves and needs, even though I know better.
Self love. Now I get it. I'm not laughing anymore. It's about being caring and aware and in tune with yourself. And how, with my brain packed full of yoga and recycling and and not eating processed foods and barefootedness, did I miss this? LISTEN TO YOUR BODY! LISTEN TO YOUR BRAIN! Maybe self love is about making time for those things that you know are good for you, physically or emotionally, about readjusting your schedule for yourself, not for someone else. Maybe it's about taking a big, earth-shattering event and making a big and equally earth-shattering positive change in your life. For me, I think I'll start small in building some self love routines. I'll add them in by little bits to my days.
Maybe all I really needed was a new perspective, a quick conversation, to make me see something that I'd be staring at and scoffing at for months in a new light. Maybe that's where this whole self love business starts, with a new perspective, even if it's only a tiny shift, a tiny ripple.